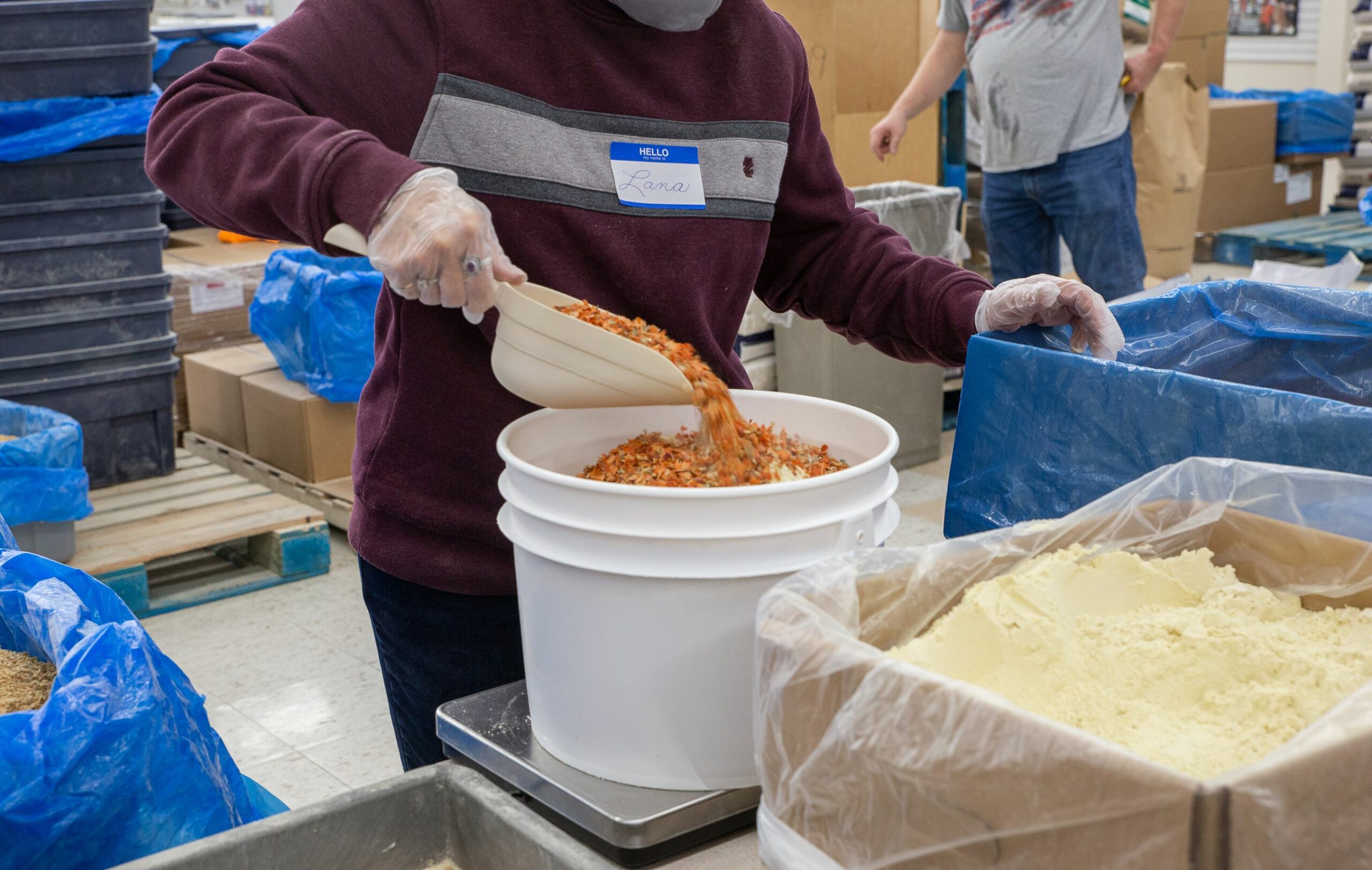 Hands Against Hunger
We are excited to be partnering with A Child's Hope International for the Hands Against Hunger 2021 event. This year's event will take place at The Hope Factory on Friday, December 10 and Saturday, December 11. Get your family, friends, team members, and coworkers together and join us as we pack over 215, 000 meals for undernourished people in Eswatini and right here in Cincinnati. 
Financially Support Hands Against Hunger
Please prayerfully consider helping us reach our goal of $20,000. To support this project financially, you can write a check or donate online through Realm. Click the button below and please note "Hands Against Hunger" in the memo section.
Frequently Asked Questions
What time are the shifts?
Each shift is 2 hours long. Friday, December 10  6:30PM and Saturday, December 11 9:30AM | 1:30PM  You should arrive 15 minutes before your shift to allow time to check-in.
Where are we packing the meals this year?
We will be at A Child's Hope Intl Hope Factory located at 2430 E Kemper Road, Sharonville, OH 45241.
What time should I arrive for my shift?
We ask that you arrive 15 minutes prior to your shift so we can get everyone checked in and we can start orientation promptly at the starting time of your shift.
Are masks required?
At this time masks are not required.
Can my children help this year?
If your child is 8 years old or older, yes, they can help pack.
Is there childcare for my younger children?
This year we are unable to provide childcare but children 8 and above are welcome to attend.
Previous years we have been close to others as we packed the meals. Will the lines be structured the same this year?
No, the lines are now broken down differently.  In fact, each line is now two separate lines. Click HERE to view a video how the lines work now at Hope Factory.
Is there free parking at the facility?
Yes. Free parking will be in the front and back areas of the building. Handicap parking is provided in the front parking lot close to the doors and we suggest anyone not needing walking support park in the back-parking lot so others needing to be close to the doors have that opportunity.
Will the "A Child's Hope Store" be open?
Yes, once inside you will have time before or after to look over items in the store and to purchase. We suggest you purchase after your shift so you will be able to take it to your car as you exit the building.
Is lunch provided?
Only if you are a volunteer and are working both shifts,  an MCC or A Child's Hope Intl staff member then lunch will be provided.
Is there Line Leader training?
Yes, all MCC line leaders will report to the production area at the beginning of orientation for training.
Is clean up still required at this facility?
 Yes, we will be helping A Child's Hope staff to clean up by cleaning off all the production tables due to the product dust (approximately 15 minutes). Sanitizing the room will be by A Child's Hope staff after all volunteers leave the facilities.  We request anyone working on the last shift, if you can stay over to help us clean up.
Download A Printable Flyer
Share This Event On Facebook